Our versatile digital games are available for use on cell phones, tablets, and monitors and can be used with Facebook, Twitter, Instagram, YouTube & LinkedIn. With hundreds of ways to utilize our games to benefit your business, let the games begin!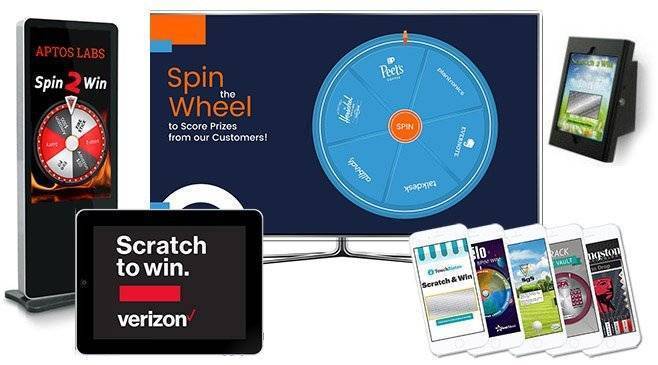 Virtual Promotional Game Uses:
Introducing New Products
Online Retail/Ecommerce Promotions
Retail Store Sales Promotions and Storewide Events
Tradeshows and Conferences
Virtual Tradeshows and Conferences
Webinars and On-Demand Events
Web Conferencing and Virtual Meetings
Live Streaming and Podcasts
Chat Rooms
Radio Remote Broadcasts
Boosting Attendance at Events, Concerts, and Festivals
Car Dealership Sales Promotions Online and Onsite
Facebook, Twitter, Instagram, YouTube & Linkedin Promotions
Picture yourself at a tradeshow, surrounded by a sea of booths with huge displays, product images, and literature to boot. Which of those booths are you most likely to visit? The one with the Digital Cash Cube Money Machine Game on the Big Screen!
Your experience with OnlinePromotionalGames.com will be a personal one. We've worked with businesses and organizations from numerous industries, so our Promotions Specialists are standing by to give you the help and support needed to choose the right digital promotional game tailored to your unique business needs. We'll help you through every step of the design and application and provide a product you will be proud to showcase. We can even provide you with ideas for imprinted merch to distribute as prizes…
Benefits of Going Digital with Your Promotions
One of the most significant aspects of our online promotional games is the ability to take them anywhere! Available for display on a cell phone, tablet, or monitor, digital games are by far the most versatile promotional attraction products available today. Imagine you're using the Cash Cube Money Machine Digital Game on your cell phone outside of a venue to boost excitement about your latest product. Or perhaps you are placing a tablet at your sales counter so customers can Play Digital Plinko after their purchase. In either instance, the compact and easy to use interface makes it an ideal promotional tool for smaller spaces.
Want to make a BIG impact? Showcase the Digital Spinning Wheel on the big screen at your tradeshow booth to drive traffic and engage a crowd. Don't forget to share the virtual promotional game and your booth number via social media before the show. Contestants will surely share the fun they had with your #DigitalSpinningWheel
In addition, the use of a Digital Promotional game provides you with an Instant Audience. The ability to easily share the Virtual Promotional game on your website, Facebook, Twitter, Instagram, and YouTube, will attract a larger audience and excite current customers to return for your products or services. 
Custom Digital Promotions Tailored to Your Marketing Goals
When you choose a Digital Promotional Game, the possibilities are endless! Our Promotions Specialists will help you to design a custom branded game based on your specific marketing goals and budget.
Besides the full branding capabilities, you can also control the distribution of prizes. Prizes can be in the form of coupons or discounts for your products and services, promo codes that can be used towards purchases on your website, points towards a grand prize, or specific prizes of your choosing.
To maximize your brand visibility, offer custom imprinted swag items as prizes. With a simple post introducing your game on social media sites like Facebook, Twitter, and Instagram, you're guaranteed to get the response you are looking for, whether it's increased sales, a larger crowd at an event, or spreading awareness about a specific topic. 
An enormous benefit of our Customized Digital Games is the ability to collect data from each contestant that plays the game. With names and email addresses of everyone exposed to your product through the game, you can continue to market to them long after your event or promotion is over. 
Additionally, when you choose a customized digital game, you can rest assured that your game is protected from abuse by using Play Rules such as one play per IP address, one play per email address, etc. We can also send players a code via SMS or email that will grant them access to play the game.
This is a great tool for:
Doctors & Physicians Offices
Franchises
Restaurants
Retail Stores
Banks & Lending Institutions
Car Dealerships
Dental Offices
Small Business & Mid Sized Business Owners
Business Expos & Trade Shows
Virtual Promotional Games are Packed with Options for a Fully-Customized Experience!
Virtual Promotional Games are Packed with Options for a Fully-Customized Experience!
Distribute a unique play code to each contestant
Playable Ads
Display coupon codes on the screen
Queue games one after another
Collect player data, up to eight fields
Redirect the player to a URL after the game
Sending customized emails to each player from your SMTP
Send prizes and rewards digitally wit Zapier/Tango Gift Card Integration
Operate on Cell Phone, Tablet, or Monitor
Full-Screen Display on computers and tablets
Choose from up to five different prize levels
SMS to Screen Engagement
Optional Kiosk with printing capabilities
Play Rules for Fraud Protection
Surveys and Incentives
Full control of prize distribution
And more! Call now! 800-573-3111
Click to Demos our Virtual Promotional Games Now!
Why Choose our selection of top-notch Online Promotional Games for your business?
Our 1 of kind Online Promotional Games are versatile and can be used in many areas of your business. Not only are they an ideal tool to increase sales by offering discounts and coupons for your products or services, but you can also use them to draw a crowd to an event or promotion by emailing redemption codes in advance or posting them on your social media pages. Online Promotional Games can also be used as an employee incentive to boost morale and increase productivity. 
By offering prizes like a free cafeteria lunch, 10 extra hours of PTO, or vouchers for meal delivery for employees who telecommute, the Online Promotional Games is an exciting way to give back to your employees. You can also offer high-quality branded promo items like Laptop Cases, Leather Padfolios, and Stainless Drinkware that are ideal for use in the workplace.
Whether you use our Virtual Games as a counter display in your restaurant or retail store, on a portable kiosk at your tradeshow or marketing event, or on the homepage of your website, you have complete control over the winnings. You choose the prizes you want to give away, quantities for each prize, and the odds of winning.
 Not only does the Online Promotional Games give you complete control over your promotion, but you also have the added bonus of collecting the names, phone numbers, and email addresses for text SMS marketing of your contestants, thus building a database of potential customers to email send text alerts. 
This is a great tool for:
Doctors & Physicians Offices
Franchises
Restaurants
Retail Stores
Banks & Lending Institutions
Car Dealerships
Dental Offices
Small Business & Mid Sized Business Owners
Business Expos & Trade Shows
Imagine the ability to email a unique number or QR code to a database full of potential customers any time you want to promote a new product or sale! The unique codes will send them directly to your site to play Online Promotional Games and win instant prizes!

What types of businesses can and like to use Online Promotional Games? 
 One of the greatest benefits of Online Promotional Games is that is can be successfully utilized in hundreds of different applications.
Regardless of the nature of your business or organization, you can benefit from Online Promotional Games. Here are a few industry-specific examples to learn about now.
What will the Online Promotional Games do for your business?
 

The versatility of being able to access the game on cell phones, tablets, or big screens allows you flexibility and instant access.

When used on your website, the allure of the digital games will create web traffic and put your brand in the eye of potential customers and encourage them to buy.
Regardless of the size of your business, the Online Promotional Games allows you to collect the name and email address of each contestant that plays the game. What a simple and cost-effective way to build a database to market to!
The Online Promotional Games can easily be promoted across your social media pages like Facebook, Twitter, Instagram, YouTube, and LinkedIn. Social Media provides a low-cost outlet with enormous reach and is the perfect platform to promote your Digital Cash Cube game.
The fun aspect of the game brings positivity to your brand.
You can draw a crowd for a Grand Opening or Sales Event by sending contestants onsite with a text or QR code required to play the money machine
Digital game promotions are a versatile and low-cost marketing tool that will maximize your ROI.
Promote new products online and in-store by introducing them within the game or using them as prizes.
Generate new web leads by featuring the Online Promotional Games on your website.
Easy setup with support.
The fully customizable design template allows you to create a custom-branded piece to feature your brand.
Our Promotion Specialists can help you create a version of the Online Promotional Games tailored to your specific needs and marketing goals. So this gamification tool can best fit your business needs. 
Graphic design support is also available, call now for a quote! 800-573-3111. Our friendly and courteous design team will help you bring your branded inspiration to life!  
We not only specialize in onsite and digital event games, our parent company, Promotion Store, also supplies over 750,000 imprinted promotional products and giveaways.
We will find the perfect swag item tailored to your marketing plan!
Check out our promotional catalog full of potential prizes for your potential clients to win listed below for ideas.