CUSTOM DIGITAL PRIZE WHEEL
Odds & Inventory Controlled Marketing Games for Events, Websites, Mobile, Retail, Social & More!
Sales promotions are an effective and fun way to drive new business to your business. Use the power of a Play Code as an incentive to do X!
We offer multiple types of Sales Promotions using Play Codes.  Our technology allows various systems to handle incoming codes and outgoing codes.
T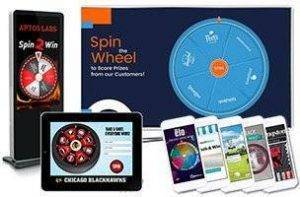 here are many versions and options for creating unique promotions.  We work with you to support your design and details.  Visit our Gallery to see what others have done.
 Call now! 800-573-3111 for a fast quote and more detailed information.
Use the below Play Codes:
IOC4WJRW
36UOQJZD
MKR13VSU
H03LC0FD
60A3PX35
9Y6VV539
17Q2WFJO
9CJFP8SN
3Y4IXXQ9
7GMOPMS5
6RSOLGFS
7PLDK5JW
5JT0MK08
LKFH2N0V
AJYEVE09
UM20XS16
ER7QOZM6
IWI6JO79
I4X5C45G
O2KWR1LN
K4EAZQHK
Example of incoming Play Codes  
Typically called Play Codes, also Token Code or Promo Code.  The Play Code allows a unique code that has been previously uploaded in our system in which you distribute to players and they may enter into a game that will allow a single play. Most often used for Sales Promotions. Do X and receive a Play Code.
Another example could be a player enters a receipt number for an entry to play. We can error check to make sure that receipt number hasn't been used in the past and will block the play.
NEW in 2020: Tango Card Integration for Digital Prize Redemption. The appeal of personalized gift cards will drive participation in any promotional event. Recipients choose from hundreds of retailers, such as Amazon, Best Buy and all the big retailers, in addition to restaurants, movie theaters and others.  This saves time, resourses and of course a lot of money in prize distribution costs.   
As an example of a Sales Promotion
Being a smaller company or a new vendor in a market that wants to enter or improve in a particular market, you need to find new and smarter ways of successfully promote your product to make it known.
Sales promotion using Play Codes is a technique to attract more sales to purchase your product or services, thereby improving your sales. For example, let's say you are an insurance company that wants to incentivize agents across the country to sell your policy over a competitor. You would create an incentive whereas, for every policy of yours that they sell, they will receive a Play Code for a chance to win cash or product as an incentive. Guess who's policy they are more inclined to sell? YOURS!, thereby increasing your sales.
This is just one technique using a Play Code Digital Game and another tool in your toolbox
Examples of Outgoing Codes
We call this the bar code game.  Our technology allows us to align up to two specific codes to be outputted in an email or via a variable url based on the prize level that the player has won.
To take it a step further we pull from the same cell of both bar code fields for a fully controlled result of aligning codes.  You have a choice of an actual Bar Code image or the use digits in alphanumeric letter-number combination.
These are sophisticated applications that require conversations in order to implement. Call 800-573-3111 to chat with us about your concepts.
Available Branded Game Marketing Instant Win Games
Prize Wheel, Scratch Off, Virtual Golf, Slot Machine, Virtual Plinko, Choose One, Bingo and Custom Instant Win Games.